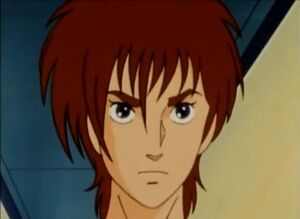 JOE MAYA - Jō Maya (ジョウ・マヤ)
Voiced by: Japanese: Kazuhiko Inoue | English: ??
Age 15~16. A boy living with his father in the colony on Mars. His father is a calm, thoughtful figure, almost his opposite. He lost his mother when he was young but often reminisces about the fun he had on Earth. His rebellious and impulsive behaviour lands him in the adventure of his life. He is the first to discover and operate the robots on the Xenos 5, becoming the pilot of the Black Lion.
His best friend is Ronin, a long-lost childhood pal. Among his other friends are Jenny and Mike. Joe and Mike refer to each other as "brother". At first Joe leaves his friends behind in order to defeat Hazzard but they carry on to help him later, especially when his father is kidnapped.
He often teases Jenny about his friends' interest in her. He also treats her like one of the guys. Joe shows romantic feelings for both Jenny and the Princess. He is attracted to the Princess from the very first meeting and is willing to do anything to protect her, but during the last episode, he confesses his love for Jenny. He develops an enmity with Icelander from the beginning due to his rude and rash behavior and his interest in the Princess. He is also very curious about the Cybertron, who continuously appears in battle to aid him.